Qatar Travel Guide
Welcome to the taste2travel Qatar Travel Guide!
Date Visited: April 2019 
Introduction
Qatar is a fascinating destination which offers the visitor the chance to see a world-class city, Doha, in the making.
As the capital and main city (home to 92% of the population), the pace of development in Doha is dizzying, especially in the lead-up to the 2022 World Cup where, US$200 billion has been allocated to build eight new stadiums, a brand-new (US$ 38 billion) metro system, numerous highways, a whole new city and other supporting infrastructure.
One of the biggest construction projects, covering 38 km² and costing US$45 billion, is the brand new, fully planned city of Lusail, which is located 23 km north of downtown Doha. Once completed, the city will accommodate 450,000 people. The currently-under-construction Lusail Stadium will be used for the opening and final games of the 2022 World Cup.
The money being spent on the World Cup is part of the larger and more ambitious Qatar National Vision 2030 (QNV 2030), a development plan for the future which details ambitious goals for environmental, social, human and economic development in the coming decades.
Despite the country's rapid development, Qatar is proud of its traditions and history and takes great care to ensure these are not lost in its pursuit of modernisation.
Petroleum and natural gas are the cornerstones of Qatar's economy, with the country holding the world's 3rd largest proven gas reserves of 25.4 trillion cubic metres. It's estimated that these reserves will not be exhausted for another 156 years!
The wealth generated from these resources has propelled Qatar to 1st place on the list of 'Richest Countries' with an annual GNI (Gross National Income) of US$128,000 per capita.
The world's youngest sovereign, the 38 year-old Emir of Qatar, Sheikh Tamim bin Hamad Al Thani, is using his country's wealth to develop Qatar in accordance with the vision laid out in QNV 2030.
Beyond the capital, the countryside and regional centres are also being transformed with huge infrastructure and construction projects. Eight-lane, fully lit, dual highways criss-cross the empty desert, linking Doha to regional centres.
The northern city of Al Khor will serve as one of the host venues for the World Cup with a new stadium and supporting infrastructure currently under construction.
One sight not to be missed is the stunning desert fortress of Al Zubarah, which is located on the north-west coast, a 90 minute drive north of Doha. The fort and nearby buried city is the only UNESCO World Heritage site in Qatar.
Location
Located in the Arabian Gulf, Qatar is a small peninsular Arab country whose terrain comprises flat, arid desert and a long shoreline of shallow beaches. Almost all of the population live in Doha which is one of the most rapidly developing metropolis' on the planet.
Currency
The currency of Qatar is the Qatari Riyal (QR) which is pegged to the United States Dollar at a rate of $1 USD = 3.64 QR. The colourful bank notes, which feature beautiful Islamic-inspired artwork, come in denominations of 1, 5, 10, 50, 100, 500 riyals.
Flag
The flag of Qatar was adopted shortly before the country's declaration of independence from Britain on 3 September 1971 and consists of a broad white serrated band with nine points and a wider band of 'Qatar Maroon'.
The maroon, which is Pantone 1955 C, has been defined and standardised by the government and is used throughout the country as a powerful 'branding' tool.
Qatari's are very proud of their flag, which is displayed everywhere, and of their 'Qatar Maroon', which adorns everything – including the Bentley logo on the car below.
The colour purple is significant in Qatari history with the country claiming to be the birthplace of purple dye production, which was originally obtained from shellfish.
The flag has the distinction of being the only one in the world having a width more than twice its height and is similar to the flag of neighbouring Bahrain, which has fewer points, is red in colour and has a shorter width.
Costs
Qatar is ranked as the richest country in the world. This wealth is enjoyed by the native Qatari's who comprise just 12% of the population while the remaining 88% of guest workers survive on minimal salaries.
Due to this income inequality, travel costs in Qatar range from budget-friendly to wallet-busting. If you're travelling on a shoestring budget, you'll find plenty of cheap accommodation and dining options, provided you don't mind sharing your dining table with guest workers (refer to the 'Eating Out' session below for more details).
If you prefer a more deluxe travel experience, you'll find plenty of top-end accommodation and fine dining options.
Typical daily travel budgets:
Budget: 500 QR (USD$137)
Mid-Range: 500-1,000 QR (USD$137 – US$275)
Top-End: 1,000 QR (USD$275 +)
Sample costs: 
Coca Cola (0.33 litre bottle): 1.78 QR (US$0.50)
Water (0.33 litre bottle): 0.99 QR (US$0.27)
Cappuccino: 18 QR (US$5)
Bus Ticket within Doha: 3 QR (US$0.82)
Car hire (compact car per day): 100 QR (US$28)
Litre of fuel: 1.55 QR (US$0.43)
Meal for 2 (inexpensive restaurant): 25 QR (US$6.80)
Meal for 2 (expensive restaurant): 180.00 QR (US$50)
Big Mac Meal: 19 QR (US$6.87)
Room in a budget hotel: 110+ QR (US$30)
Room in a mid-range hotel: 182+ QR (US$50)
Room in a top-end hotel: 528+ QR (US$145)
People
While Qatar has been inhabited for thousands of years, modern day Qatari's are descendant's of nomadic Arab tribes who came to the peninsula in the 18th century from the eastern regions of Saudi Arabia. As of 2017, Qatar had a population of 2.6 million inhabitants, the majority of whom live in Doha.
Guest Workers
As with other Gulf nations, the discovery of oil (in 1935) led to a rapid increase in immigration as 'guest workers', mostly from the Sub-continent countries of India, Bangladesh and Pakistan poured into the country to work on infrastructure and construction projects. Today, these guest workers account for 88% of the total population with Indians comprising the largest ethnic group in the country at 25%, while Bangladeshi's account for 12% and Filipino's, who are employed as either domestic helpers or in the service industry, represent 10%. Native Qatari's comprise just 12% of the population.
The presence of such a large number of, mostly male, guest workers massively distorts the national population mix with a sex ratio of 3.41 males for every female as of 2017.
The treatment of foreign workers by Qatari employers has been heavily criticised in recent years, especially in the lead up to the World Cup in 2022.
Numerous media reports and investigations by Amnesty International have detailed appalling living conditions and work practises which are exploitative and abusive.
The 'Kafala' or sponsorship system practised by Qatar and other Gulf nations has been stated as the main reason for abuse of the rights of low-income migrant workers. The Qatar government has recently made changes to this system which included the establishment of a minimum monthly wage (US$200) and allowing workers to leave the country under their own free will (which was not previously possible).
Sights
Most sights in Qatar are to be found in Doha, however there are enough attractions located elsewhere that's its worth hiring a car (see 'Car Rental' below) for a few days to explore beyond the city limits.
Doha
Museum of Islamic Art
When Qatari authorities wanted an architect to design their new showpiece, the Museum of Islamic Art (MIA), they convinced Chinese master architect, IM Pei (famous for designing the Louvre "pyramid" and many other masterpieces) to come out of retirement for the project.
What Mr Pei has designed is a building which certainly stands out,. Built on its own artificial island, 60 metres offshore, in Doha harbour, the approach is impressive while the sweeping, hollow interior with its central, Islamic-inspired skylight is awe-inspiring.
Then there are the displays, masterfully presented over 3 floors, which feature artworks from the region and beyond (Spain, Egypt, Iran, Iraq, Turkey, India, and Central Asia).
The galleries feature one of the finest collections of Islamic art to be found anywhere in the world – dazzling collections which underscore the seriousness of the country's cultural ambition. Items  Spain, Egypt, Iran, Iraq, Turkey, India, and Central Asia. It is a museum unlike any other!
While the galleries are both spacious and wonderfully uncluttered, many of the displays could be described as eclectic and quirky, such as the collection of Islamic Astrolabes (a two-dimensional map of the heavens which shows the movement of celestial bodies) or a collection of pottery tea-urn filters.
MIA Park
Next to the museum is the purpose-built MIA park which provides panoramic views of the Doha skyline and the opportunity to relax in a harbour-side cafe after visiting the museum.
One interesting art installation in the park is the hard-to-miss, 80-ft high, '7' sculpture. Designed by American artist Richard Serra. The seven-sided sculpture is made from 7 steel sheets and serves as a tribute to the importance of the number 7 in Islamic culture.
National Museum of Qatar
Opened on the 28th of March 2019, the National Museum of Qatar (NMoQ) features an innovative design by French architect, Jean Nouvel who was inspired by a desert rose crystal which can be found in the desert throughout the country.
The 52,000 m² museum houses interlocking galleries which showcase Qatari history through a series of permanent exhibits. Displays include the natural history of Qatar, Bedouin culture, historical exhibitions on the tribal wars, the establishment of the Qatari state, and finally the discovery of oil to the present.
The fluid design of the museum does not include any doors, allowing visitors to flow through the different exhibits. The ample wall space in the galleries is used to project beautiful, evocative images which complement the displays.
One of the more spectacular design features is the cavernous wooden ceiling of the museum gift shop which was created using 40,000 wooden sheets by the Australian architectural firm Koichi Takada. The ceilings provide a 'cave' feel to the shop and follow the fluid form of Jean Nouvel's design.
Doha Corniche
Outside the museum, the busy, 7 km long, Doha Corniche wraps around Doha Bay, connecting most of the sights of interest. This busy arterial road is lined with flower beds, grassy verges and a walkway, making it a popular place to exercise.
Souq Waqif
A short walk from the Corniche, the beautifully restored Souq Waqif lies in the heart of the old town. This typical Arabic market, which dates back hundreds of years and was recently restored, is one of the top tourist destinations in Doha.
A great place to shop and eat, the souk is closed most afternoons but comes alive in the late afternoon, once the desert sun retreats.
The Falcon Souq
A highlight of a visit to Souk Waqif is the very unique Falcon Souk. Falconry is an integral part of Qatari culture and – with a top bird fetching up to US$275,000 – the sport of kings is big business.
It therefore isn't surprising to find an entire block of Souq Waqif dedicated to these impressive birds of prey. There's even an extensive, and very modern, 'Falcon Hospital' inside the souk.
The shopkeepers will proudly lead you around the falcon showrooms, where a lot of the birds (most of them hooded) rest lined up on their perches.
Falconry has a compelling place in Qatari society. Falconers revere falcons and take excellent care of their cherished birds. The falcon Souq and its amenities like the Souq Waqif Falcon Hospital might seem frivolous and extravagant to an outsider but for Qataris, it's perfectly normal.
City Centre
A former fishing village, Doha is quickly developing into a modern, cosmopolitan city which is known for its futuristic skyscrapers and ultramodern architecture inspired by ancient Islamic design.
The epi-centre of this transformation is the glitzy City Centre which is home to a host of architecturally, award-winning, buildings.
One of the standout buildings in the city is Doha Tower which was designed by Jean Nouvel (who also designed the Qatar National Museum). The 232 metre building has no central core, providing more floor space and is covered by a steel, Islamic-designed, lattice which shades the building from the sun and hides the usual coating of 'desert dust' which covers all buildings in the region.
Beyond Doha – A Day Trip to Northern Qatar
A worthwhile day trip follows the excellent, and very fast, Highway 1, which connects Doha with the northern town of Al Ruwais (127 km), passing Al Khor (57 km) along the way. From Al Ruwais you can return to Doha via the fortress of Al Zubara.
Al Khor
Located 57 km north of Doha, Al Khor ('Creek' in Arabic) is one of the larger towns in Qatar and has been designated as a host city for the 2022 World Cup. Al Khor is home to many guest workers and ex-pats who work in the nearby oil and gas fields.
The town is known for its three historic watchtowers, known as the Al Khor Towers, which can be found along the Corniche. The Corniche has recently been revamped with grassy parks, complete with picnic tables and shelters, lining the shore front.
If you're in need of a caffeine fix or lunch, the Al Khor Mall offers plenty of good options. From Al Khor, it's a fast, 70 km drive to the northern port city of Al Ruwais.
Al Ruwais
Al Ruwais ('Small Head' in Arabic, which is a reference to its location on a small promontory) is an important fishing port located at the northern tip of Qatar, 127 km (1 hour) north of Doha via Highway 1, which terminates in the town.
Al Ruwais is known for its port which is home to a large fleet of traditional wooden fishing boats. Before the discovery of oil and gas, Al Ruwais was one of the most important fishing centres on the peninsula and a hub of economic activity.
From Al Ruwais, the coast road runs south-west for 27 km (25 mins) to the spectacular Al Zubarah Fort & Township.
Al Zubarah Fort
Located 105 km north-west of Doha, the UNESCO World Heritage listed Al Zubarah Fort looks as if it's jumped off the pages of 1001 Arabian Nights. It is the quintessential Arabian desert fortress and a spectacular sight, especially in the late afternoon when it's illuminated by the glow of the setting desert sun.
Located on the side of the main road, the fort was originally built by Sheikh Abdullah bin Jassim Al Thani in 1938 to serve as a Coast Guard station. It has since been converted into a museum to display archaeological exhibits from the neighbouring ancient town of Zubarah. The fort is open from 8 a.m. until 6 p.m. – admission is free.
Ancient Zubarah
Located in the middle of the desert, but within sight of the fort, the ancient, buried city of Zubarah ('Sand Mounds' in Arabic) is Qatar's most substantial archaeological site.
It's alleged that Zubarah was founded in the 17th century as a fishing and pearling village. What makes Zubarah important is that it's one of the most extensive and best preserved examples of an early settlement in the region. Most of the town still remains buried under sand. It's estimated that, during its height, the town covered 400 hectares and was home to between 6,000 and 9,000 people.
During my visit, I had the whole sight to myself. Several marked walking trails lead you along the half-buried walls which once encircled the town. Away from the walls, the trails lead you pass excavated dwellings.
Beyond Doha – A Day Trip to Western Qatar
Another interesting day trip from Doha follows the excellent Dukhan Highway to the west coast town of Duhkan, a one hour journey covering 100 km.
Fifteen kilometres before Dukhan, a right-hand turn off the highway brings you onto an excellent, brand-new, paved road which passes through surreal desert landscapes, terminating in the town of Zekreet.
Zekreet
While the small settlement of Zekreet is mildly interesting, it's the journey there which is the main attraction. A short drive off the highway, you enter a lunar landscape of erosional land forms comprised of mesas and low ridges.
To access the more interesting landscapes you need to drive off-road, which is easily done in a regular car. One of the more interesting sights is the 'Hole in the Rock' which can be seen from the main road (right side while travelling towards Zekreet).
Dukhan
The sight of the first oil discovery in Qatar in 1935, Dukhan has developed around the oil industry and is very much a company town. The area in and around town (and most of the way south along the coast) is administrated by Qatar's state oil agency Qatar Petroleum (QP) who have been granted a concession over this section of the west coast. As of 2018, QP was the third largest oil company in the world by oil and gas reserves and is responsible for providing 60% of the annual GDP of Qatar.
Dukhan is home to a huge QP compound which houses thousands of ex-pat workers and their families. The walled compound is the size of a suburb and sits in the middle of town and access to it is restricted to QP staff and family members.
While there are many sensitive industrial installations around town, there are few sights. Signs everywhere warn against any sort of photography, even at the beach.
When returning to Doha from the west coast, it's best to return the same way via the Duhkan highway. You should avoid heading south down the coast to the town of Umm Bab then east back to Doha. The rough, single lane road from Umm Bab to Doha is used mostly by trucks (100's of them) carrying concrete and other construction materials. A nightmare journey!
Accommodation
Booking.com and Hotels.com currently list about 140 properties in Doha, but with new hotels constantly under construction, the number of options continues to grow.
Top-End Hotels:
It is clear from the bargain rates offered by the international hotel chains that the supply of hotel rooms in Doha currently outstrips demand. Five and four star accommodation can be surprisingly affordable with a room at the Doha Hilton Doubletree (5-star) currently costing US$100 per night, while a room at the Doha Intercontinental (5-star) costs around US$200 per night.
If you wish to stay somewhere which offers a private beach in an unbeatable location, the 5-star Sheraton Grand Doha offers excellent accommodation (rooms from US$240 per night), a short walk from the financial district.
While in Doha, I stayed at the wonderful and highly recommended, Radisson Blu (4 -star) where a standard room costs just US$67 per night. A real bargain!
Mid-Range Hotels:
Another hotel I stayed at, and would definitely recommend, is the centrally located Century Hotel Doha (3.5-star). Located in the old town, a 15 minute taxi ride (50 QR) from the airport, the hotel is a short walk from all the major sights, making it a perfect option if you plan to explore Doha. Standard rooms, which are very spacious and comfortable, cost around US$55 per night. There are plenty of cheap Indian restaurants around the hotel which provide tasty, filling meals for around US$5. The newly opened National Museum of Qatar is a short walk from the hotel.
Budget Hotels:
A double room at the (2-star) Qatar Youth Hostel costs US$33 per night. By paying a little more, you can upgrade to a significantly better mid-range hotel. A room in a basic guesthouse can cost as little as US$15 per night.
Eating Out
Restaurants
Restaurants in Doha run the gamut from the cheapest of eats to deluxe, fine dining. One of my favourite places to dine in the evening was along the airy, cobbled streets of Souq Waqif where a multitude of excellent restaurants offer a variety of cuisines from Yemeni, Persian, Iraqi, Lebanese, Syrian, Indian and even Italian (one cannot live on humus alone!).
If you're in the mood for something sweet, there's one section of the Souq where you'll find a team of crêpe makers who prepare the most amazing crêpe's on the footpath for 5 QR. The Nutella crêpe's are the perfect dessert after a meal of Humus, Tabbouleh and Baba Ghanoush.
During my stay, I frequented the many different Indian restaurants which cater to the army of (poorly paid) guest workers. These restaurants naturally offer incredible value, serving up Indian favourites for less than 20 QR (including a drink). Such restaurants tend to be small and always busy with tables shared by all and sundry.
One of my favourite Indian 'cheap-eats' is Al Zarka, which is located a short walk from the Qatar National Museum on Al Muthaf street. Both Indian and Arabic food are served here in generous portions at very reasonable prices. My favourite breakfast was a delicious omelette rolled inside a fresh Roti with a pint of freshly squeezed orange juice which was a bargain at 15 QR (US$4).
Cafés
There are many fine café options in Doha with one of the best being the newest kid on the block – The Desert Rose Cafe. Located on the grounds of the Qatar National Museum, this stylish cafe serves excellent coffee along with tasty meals – an ideal stop after visiting the museum.
The Costa Coffee chain has several outlets around town with the most popular located on the Corniche next to the Sheraton hotel.
At an average cost of 20 QR (US$5.50) a cup, coffee prices in the glitzy Financial district are steep. However, one saving grace is the street-side café operated by Monoprix which serves wonderful coffee from a beautifully restored Volkswagen van at half the price of nearby cafes.
Bars
Forget it!
With a strict ban on alcohol, it's not surprising that there is no bar scene in Qatar. Locals looking to socialise frequent lounges (which are like bars without the alcohol) and cafes which serve coffee, tea, juices and Sheesha.
Visa Requirements
Qatar provides visa-free access to nationalities from 80 different countries. To check your requirements, you should consult the Visa Policy of Qatar.
Getting There
Air
All flights into Qatar arrive at Doha's brand new, sparkling clean, Hamad International Airport (IATA: DOH) which has recently been voted "4th Best Airport in the World" by Skytrax.
The airport serves as the hub for Qatar Airways (QR), which was voted "2nd Best Airline in the World (2018)" in the same awards. Qatar Airways (QR) currently serves 80 destinations, flying to all (inhabited) continents.
If you wish to freshen up during your transit stop, large, spotlessly clean, shower facilities (QR 80) are offered by the be relax spa which can be found alongside the food court in Concourse A. The friendly Filipina staff offer a range of pampering services.
---
Long Layovers: If you're flying with Qatar Airways and have a long layover in Doha and decide to break your journey and check into one of the many affordable hotels in town, you can not retrieve your checked luggage at Hamid International Airport. Not, that is, without first going to the QR customer service desk and changing your ticket to a 'multi-city' ticket. This will incur a change fee of course! It's a revenue generating exercise for QR.
If you do decide you really need your bag, I was informed by ground staff that the retrieval process takes at least an hour. Best to pack essentials into your carry-on baggage.
---
Airport Artwork
Qatar Museums have placed a number of artworks around the airport to "inspire the millions of travellers who pass through the airport". A list of different installations can be viewed on their website.
Lamp Bear
The icon, and focal point, of Doha airport is the very large and very yellow Lamp Bear, a giant bronze statue of a teddy bear with its head in a lamp.
The sculpture was created by Swiss artist Urs Fischer (interestingly, the name 'Urs' in German translates as 'Bear') and was originally displayed at the Seagram Building in New York City before being purchased by a member of the Qatari royal family at a Christie's auction for US$6.8 million.
At seven metres tall and weighing approximately 18-20 tons, Lamp Bear can be found sitting in the middle of the duty free shopping area.
Small Lie
One of the latest works to be installed inside the terminal is 'Small Lie' by American artist Brian Donnelly, better known as KAWS. Reminiscent of a wooden marionette, the sculpture is made from Afrormosia wood, weighing in at 15 tonnes and standing 32 feet tall.
---
The following video was released by Qatar Museums to promote 'Small Lie'.  
---
Scheduled Services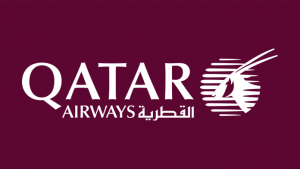 The following airlines provide scheduled services to/ from Doha:
Air India Express – flies to/ from Kannur, Kochi, Kozhikode, Mangalore, Mumbai, Thiruvananthapuram
Biman Bangladesh Airlines – flies to/ from Chittagong, Dhaka, Sylhet
British Airways – flies to/ from London–Heathrow
Cham Wings Airlines – flies to/ from Damascus
Ethiopian Airlines – flies to/ from Addis Ababa
Himalaya Airlines – flies to/ from Kathmandu
IndiGo – flies to/ from Ahmedabad, Chennai, Delhi, Hyderabad, Kannur, Kochi, Kozhikode, Mumbai, Thiruvananthapuram
Iran Air – flies to/ from Lar, Shiraz
Jazeera Airways – flies to/ from Kuwait City
Kuwait Airways – flies to/ from Kuwait City
Middle East Airlines – flies to/ from Beirut
Nepal Airlines – flies to/ from Kathmandu
Oman Air – flies to/ from Muscat
Pakistan International Airlines – flies to/ from Peshawar, Islamabad
Pegasus Airlines – flies to/ from Istanbul–Sabiha Gökçen
Philippine Airlines – flies to/ from Manila
Qatar Airways – flies to/ from Adana, Addis Ababa, Adelaide, Ahmedabad, Algiers, Amman–Queen Alia, Amritsar, Amsterdam, Ankara, Athens, Atlanta, Auckland, Baghdad, Baku, Bengaluru, Bangkok–Suvarnabhumi, Barcelona, Basra, Beijing–Capital, Beirut, Belgrade, Berlin–Tegel, Birmingham, Boston, Brussels, Bucharest, Budapest, Buenos Aires–Ezeiza, Canberra, Cape Town, Cardiff, Casablanca, Chiang Mai, Chengdu, Chennai, Chicago–O'Hare, Chongqing, Clark, Colombo, Copenhagen, Dallas/Fort Worth, Da Nang, Dar es Salaam, Davao, Delhi, Denpasar/Bali, Dhaka, Djibouti, Dublin, Durban, Edinburgh, Entebbe, Faisalabad, Frankfurt, Geneva, Goa, Gothenburg, Guangzhou, Hatay, Hangzhou, Hanoi, Helsinki, Ho Chi Minh City, Hong Kong, Houston–Intercontinental, Hyderabad, Islamabad, Istanbul–Arnavutköy, Istanbul–Sabiha Gökçen, Isfahan, Izmir, Jakarta–Soekarno–Hatta, Johannesburg-OR Tambo, Karachi, Kathmandu, , Kiev–Boryspil, Kigali, Kilimanjaro, Kochi, Kolkata, Kozhikode, Krabi, Kuala Lumpur–International, Kuwait City, Lagos, Lahore, Larnaca, Lisbon, London–Gatwick, London–Heathrow, Los Angeles, Madrid, Mahé, Malé, Malta, Manchester, Manila, Maputo, Marrakech, Mashhad, Melbourne, Miami, Milan–Malpensa, Mogadishu, Mombasa, Montréal–Trudeau, Moscow–Domodedovo, Multan, Mumbai, Munich, Muscat, Nairobi–Jomo Kenyatta, Najaf, New York–JFK, Nagpur, Nice, Oslo–Gardermoen, Paris–Charles de Gaulle, Penang, Perth, Peshawar, Philadelphia, Phnom Penh, Phuket, Pisa, Prague, Rabat, Rome–Fiumicino, Salalah, São Paulo–Guarulhos, Sarajevo, Seoul–Incheon, Shanghai–Pudong, Shiraz, Sialkot, Singapore, Skopje, Sofia, Sohar, Stockholm–Arlanda, St Petersburg, Sulaymaniah, Sydney, Tbilisi, Tehran–Imam Khomeini, Thessaloniki, Thiruvananthapuram, Tokyo–Haneda, Tokyo–Narita, Tunis, Venice, Vienna, Warsaw–Chopin, Washington–Dulles, Windhoek–Hosea Kutako, Yangon, Yerevan, Zanzibar, Zagreb, Zürich
Regent Airways – flies to/ from Chittagong, Dhaka
Royal Air Maroc – flies to/ from Casablanca
Royal Jordanian – flies to/ from Amman–Queen Alia
SalamAir – flies to/ from Muscat
SriLankan Airlines – flies to/ from Colombo
Syrian Air – flies to/ from Damascus
Turkish Airlines – flies to/ from Istanbul–Arnavutköy, Istanbul–Sabiha Gökçen
US-Bangla Airlines – flies to/ from Chittagong, Dhaka
Alcohol Ban
It is illegal to import alcohol into Qatar. If you are simply transiting, you can carry alcohol (there are even duty free shops at the airport which sell it). However, you cannot enter Qatar with any alcohol and to ensure this it doesn't happen, all your luggage will be x-rayed by customs.
Airport Transport
Turquoise-coloured, metered, city taxis are available from outside the left-hand exit of the arrivals hall. Taxis from the airport charge 25 QR (US$6.90) pickup flag fall per trip. For an overview of taxi tariffs, please refer to the 'Getting Around' section below.
Regular public buses (route 747) depart from outside the right-hand exit of the arrivals hall and cost 3 QR to downtown. For an overview of all bus services in Doha, please refer to the 'Getting Around' section below.
Land
Qatar's only land border, the Abu Samra crossing connects Qatar and Saudi Arabia.
From 2017 until the 4th of January 2021, the border was closed as part of a diplomatic boycott of Qatar which was led by Saudi Arabia. At the time, the Saudis threatened to dig a canal along the full length of the border (60 km) which would have made Qatar an island-state.
Warm relations have now resumed and as such, Qatar's one land border is now operating normally.
Sea
Cruise ships call at Doha Port from October through to May of each year – you can check the current schedule here.
Getting Around
Public Buses
All bus services in Qatar are operated by the State-owned Mowasalat whose website includes route maps, bus schedules and fares.
Doha Buses
Mowasalat operates a fleet of 250 modern, comfortable buses on 50 different routes which cover the entire area of Doha.
Prior to boarding any bus, you'll need to purchase the Karwa Smart Card (although drivers on the airport route often accept cash from newly arrived tourists).
Fares around Doha cost from 3 QR to 7 QR per trip.
Intercity Buses
Beyond Doha, nine different routes allow you to reach Al Ruwais/Al Shamal, Al Thakhira, Dukhan, Mesaieed Industrial City, Abu Samra, Umm Garn Village, Al Kheesa and Al Khor.
Tourist Service
The Hop On/ Hop Off service offered by Doha Bus covers all of the main sights within the capital. Tickets cost 95 QR (adults), with the bus operating on three different routes (Red, Green and Orange), all of which are illustrated on the downloadable route map.
Taxi
Like the buses, taxis in Qatar are operated by the State-owned Mowasalat who provide a fleet of beautiful, modern, comfortable, clean, turquoise-coloured taxis. The initial cost of taxi hire is 10 QR but this will get you far before the meter starts to increase.
The drivers are always guest workers from the sub-continent and are usually polite and always use the meter, otherwise the trip is free. Current tariffs are included in the graphic above, supplied by the Qatar Tribune.
Metro
A brand new, state-of-the-art, Metro? Oh yes! Just another mega infrastructure project which is currently under construction by Qatar Rail.
Being built at an estimated cost of US$36 billion, the metro is being constructed in two phases with phase one (37 stations) due to be opened by 2020 with three underground lines (click each for route maps):
Update: A section of the red line between Al Quasar and Al Wakra became operational on the 8th of May 2019, the first section of the Metro to open. You can view the current schedule on the Mowasalat website.
This line also includes a branch line to Hamid International Airport but an opening date for the airport station is yet to be advised.
Rental Car
A rental car is the best way to maximise your time in the country, especially with public transport outside Doha being thin on the ground. With daily rates starting at US$28 and fuel costs at 1.55 QR (US$0.43) per litre, car hire is definitely affordable.
The country has also spent big on highway construction with perfectly paved, fully lit, eight-lane motorways cutting paths across the dessert. Construction is still ongoing with new highways being added.
There are currently 18 different rental car companies at Hamad International Airport, all of which are listed here.
---
That's the end of my Qatar Travel guide.
Safe Travels!
Darren
---
Follow me on Instagram: 
---
Further Reading
Other travel reports from the Gulf Region region:
Qatar Travel Guide Qatar Travel Guide Qatar Travel Guide Qatar Travel Guide Qatar Travel Guide Qatar Travel Guide
Qatar Travel Guide Qatar Travel Guide Qatar Travel Guide Qatar Travel Guide Qatar Travel Guide Qatar Travel Guide
Qatar Travel Guide Qatar Travel Guide Qatar Travel Guide Qatar Travel Guide Qatar Travel Guide Qatar Travel Guide Qatar Travel Guide
Darren McLean is an Australian full-time digital nomad who has spent 36 years on a slow meander around the globe, visiting all seven continents and 229 UN+ countries and territories.
He founded taste2travel to pique one's curiosity and inspire wanderlust.